Tequila Rain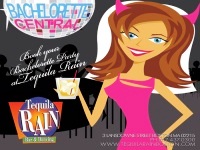 Planning a Bachelorette Party? Don't want to leave the boys behind?
There's nothing like a Tequila Rain Bachelorette Party…with its convenient location on Lansdowne Street and your favorite top 40, hip hop and rock, Tequila Rain offers the best party atmosphere north of the border. Tequila Rain lets you party like it's Spring Break 52 weeks a year. Tequila Rain is NOW scheduling Jack N' Jill Co-ed Bachelorette Parties on FRIDAY nights! All parties are required to arrive as one group before 11pm, all guests must be 21+ with proper identification.
Party reservations do not include table/seating area reservation; all tables/seating areas are first-come first-serve. Make sure you check out this MA lounge for a great time.