Parker River National Wildlife Refuge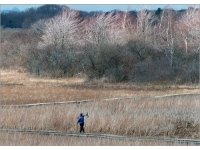 A breathtaking Scenic beauty!
Parker River National Wildlife Refuge was established in 1942 to provide feeding, resting, and nesting habitat for migratory birds. The refuge occupies 4,662 acres on the southern two-thirds of Plum Island, a barrier island on the Northeast coast of Massachusetts, and is administered by the US Fish and Wildlife Service, a federal agency.

Parker River is one of over 550 Refuges in the National Wildlife Refuge System, a national network of lands dedicated to "wildlife first." Today, Parker River provides pristine coastal habitat for over 300 species of resident and migratory birds, as well as a large variety of mammals, insects, fish, reptiles and amphibians. This is a beautiful place to go fishing in MA!