Noanet Woodlands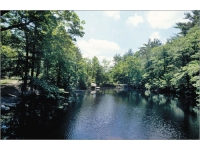 Boston's best kept secret for hiking!
Less than an hour away from the city, Dover's Noanet Woodlands delivers nearly the same excitement as larger reservations like Blue Hills, but with a more diverse environment of woodlands, pine forests, meadows, and ponds and a quieter setting away from major highways.
They think it's the more than 17 miles of shady trails and woods roads you'll find here for walking, cross-country skiing, snowshoeing, and horseback riding. Enjoy leisurely strolls, mountain biking, and birding – you might even hike to the top of Noanet Peak for terrific views of the Boston skyline.