Nashoba Brook Wildlife Sanctuary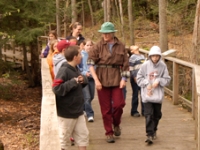 Mother Nature is waiting for you!
This mostly wooded sanctuary consists of two separate parcels that are contiguous to a larger complex of preserved land owned by the Town of Westford. Mass Audubon's 42-acre Concord Road parcel features a short loop trail through a white pine-oak forest.
In spring, listen for the calls of the wood frog as you pass close to the vernal pool or search for migrating warblers. You may continue your walk on the multiple use recreation trails that meander through town land and the other parcel.