Lime Rock Preserve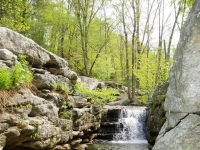 Come and appreciate Nature!
Lime Rock Nature Preserve is a one of the smallest and newest preserves in the state. Established in 1986 it has become extremely popular with botanists and geologists because of its unique features. For such a small area it has a huge population of rare plants and unusual stone formations. The Lime Rock Preserve is unique for its variety of habitats including woodlands, streams, open water and calcareous ledges. The Moshassuck River and the Manton Reservoir are both highlights along the MA hiking trail.
The 130 acre Preserve is an excellent place to watch the seasons change, take in the views of the pond, look for birds like migrant warblers, or look for animal tracks in the snow.