Ipswich River Wildlife Sanctuary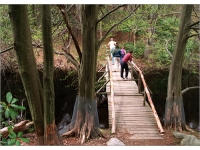 Explore an enchanted trail!
This place is a very beautiful place for adults, especially if you are out with the kids. People come from all around MA to hike and catch a glimpse of all sorts of animals and the astonishing scenery. The amazing scenery and the exploding wildlife is everywhere, birds eat out of your hands and every evening the deer come out from the woods into this big open field and it's breathtaking. A must see for the outdoor enthusiast. You will get some beautiful pictures of wildlife while visiting this gorgeous place!

The Visitor Center is open during the months of May 1 through to October 31 from Tuesday until Friday, 9:00 am – 4:00 pm. On weekends and holidays from 9:00 am – 5:00 pm. During the months of November 1 - April 30 from Tuesday through Sunday and holidays, 9:00 am – 4:00 pm. The Trail are open from dawn to dusk, Tuesday-Sunday and Monday holidays only.