Hale Reservation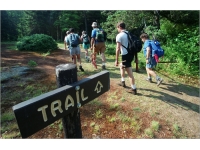 Come and experience nature!
Hale Reservation is a private, non-profit educational organization that manages 1,130 acres of woodlands, including four ponds and over twenty miles of hiking trails in Westwood and Dover, Massachusetts. Hale is most widely recognized for its summer day camp programs which annually serve over 4,400 children from 70 communities in the Greater Boston area. Hale Reservation also offers a family program, outdoor and environmental education experiences for children and adults, and open space for casual recreational use.
Hale's Main Office Hours are weekdays from 9:00 a.m. through to 5:00 p.m. The reservation is open to the public 365 days a year. The summer Hours are 7:30 a.m. to dusk or 8:00 p.m. During the winter hours, they are open from 7:30 a.m. – 5:00 p.m.