Great Brook Farm State Park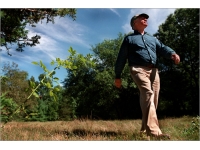 You will wish you were here right now!
Great Brook Farm State park is the best place to enjoy the outdoors and hiking in Massachusetts. You will find large hilly grassy areas, dirt paths through wooded areas, great ice cream and an animal farm for the kids at heart. There is a pond there, and just like anywhere else nearby, you will agree that the best time to go is when it is breezy and sunny. Take advantage of the easy, cheap parking.
There are over 20 miles of trails available for walkers, hikers, mountain bikers, and horseback riders. During the winter months, cross-country skiing is available and one trail is lantern lit for a "moon light" experience! The ice cream stand is open through the month of October.