Balderdash Cellars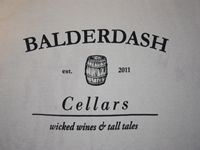 Wine Tasting, for FREE?!
Want to have a free wine tasting? Balderdash Cellars in Massachusetts has no tasting fee! The winery was established in 2011 and they produce wines in a traditional way. And by traditional way, it means hands-on crushing, pressing, bottling and aging. The free wine tasting offers their 2011 and 2012 wine barrels and soon to be bottled.
The winery also offers private wine tastings with a maximum of 16 people. The wines are paired with cheeses, nuts and fruits. So visit Balderdash Cellars in Massachusetts to taste free high quality and traditionally-made wines!