Arcadia Wildlife Sanctuary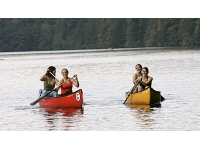 Come and be enchanted!
While walking along Arcadia's five miles of trails, look for signs of white-tailed deer, black bear, otter, beaver, and other interesting creatures. The sanctuary's forest, meadows, marsh, and wetlands are great places to explore at any time of year. Canoe along the river on a summer's night during a program, and you're likely to see an enchanting display of fireflies.
The Arcadia Wildlife Sanctuary's trail hours are Monday through Thursday, 9 a.m. - noon, Friday 9 a.m. - 3:30 p.m., Saturday, 9 a.m. - 3:30 p.m., Sunday and most holidays, noon - 3:30 p.m. They are closed on Thanksgiving, Christmas, and New Year's Day. Come and spend the day hiking in MA.