Alfalfa Farm Winery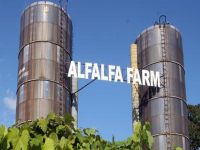 A Family-owned and Operated Vineyard!
Get the feelings of a Vintner, taste the variety of wines right here at this winery in Massachusetts! You can taste from the variety of hand-crafted wines, enjoy the tour and listen to live music. They are open for guests in the summer on Sundays from 1-5 p.m. and in the fall on Saturday and Sundays from 1-5 p.m.
You can bring your friends, colleagues, guests or family members and have fun tasting different types of wines, taking a tour and having a picnic under the Bullpens at this unbelievable vineyard in Massachusetts!